5 Reasons Why You Should Keep Your Property Windows Clean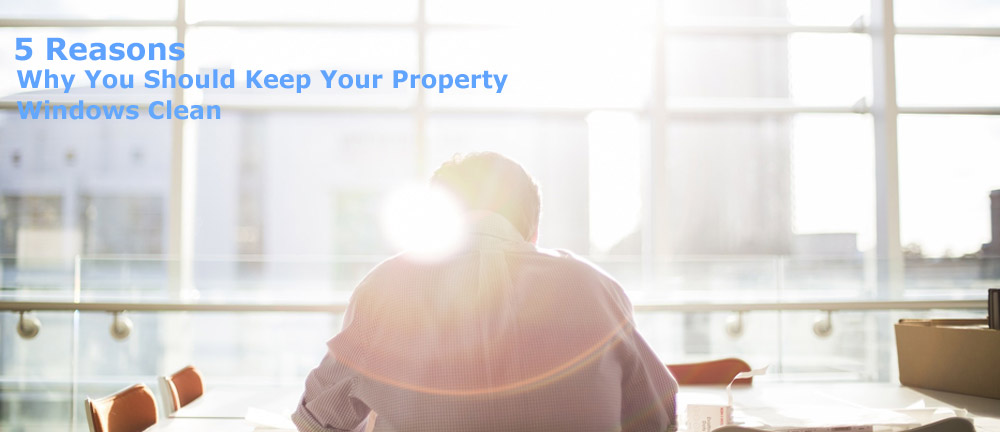 5 Reasons Why You Should Keep Your Property Windows Clean
Most home and business owners forget to maintain clean and dirt free windows; many simply don't realise the value of keeping your windows clean
You would be surprised to know that there are many notable benefits that come with maintaining your property windows outside of just having nice looking windows that appear clean.
Here are five of the most significant reasons to keep your windows cleaned on a regular basis:
1. PARTICLE BUILDUP
Particle buildup that occurs on your windows can markedly diminish your property's air quality. One of these particles can be mold, which poses a severe health threat over time. Mold can take its toll on the well-being of your property's inhabitants whether that is your family, your employees, or just yourself. Long-term exposure can even lead to issues with the respiratory system among other medical issues. If the air in your property seems more stagnant than usual, a window cleaning can help to clear the air.

2. HEAT & LIGHT LOSS
We all know that the UK can be unbearably cold during winter months; what you may not know is that your windows can help heat your property. Excess dirt, grime, and general particle buildup can block out parts of a window and even become absorbed by the window's pores. All of this blockage reflects the sun's UV rays and blocks your property of the sun's free heat. This can cost you over time on your energy bills, and that is without taking into account the damage any mold could be doing to your windows.
3. BLOCKING THE VIEW
If your windows are so dirty that they are blocking out the light and colour of the outdoor world, this can be a little depressing. Regardless of whether your view is stunning when you can see it clearly. A clear transparent window is always more enjoyable to look through. For property owners or hotel owner, care home owners etc.. unclean windows are certainly a turnoff for customers or clients whereas clean shiny windows will always impress.
4. GOOD IMPRESSION
Improving your view with cleaner windows also helps make a better impression on your guests who visit your home or business. No one wants someone to get the wrong idea about them just because of some windows, but this is something people get judged for all the time. Those that run a business will certainly want clean windows if they want to keep a professional image and impress their clients. Your staff or family may even feel happier since clean windows are known to subconsciously improve people's moods.
5. STOP WINDOW GLASS DEGRADATION
A majority of particles, like those that make up water and minerals, can damage your property windows over time. The particles will enter the glass' pores and effectively contaminate and corrode the windows. The first things you may notice will be some light scratches or cracks, but an unmaintained window can eventually be altered on a structural level and will need a full replacement. Cleaning your windows will prevent this outcome and give your windows far more longevity.
Our window cleaning service covers Burnley, Blackburn, Accrington, Clitheroe, Whalley, Gisburn, Padiham, Rossendale, Hebden Bridge, Brockhall Village, Skipton, Todmorden, Great Harwood, Darwen and the surrounding areas – FREE QUOTE Call 07940575999  Contact us
WFC Window Cleaners © 2022