A Guide to Clean a Conservatory Roof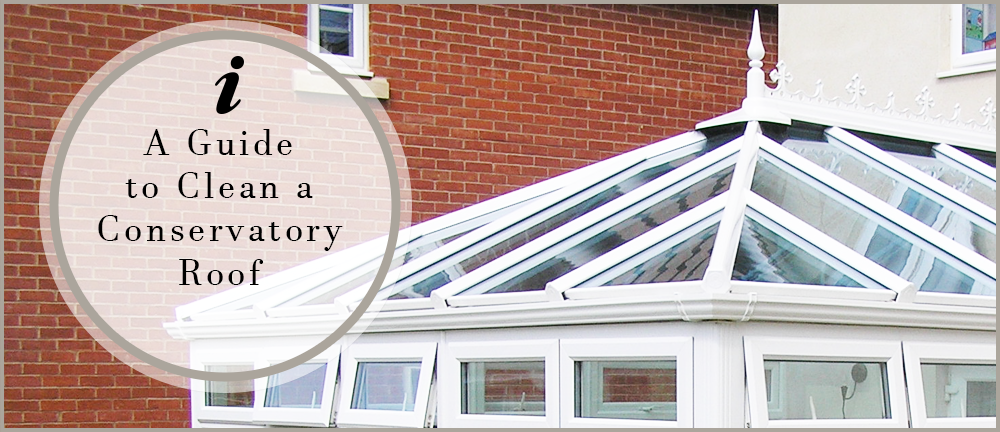 A Guide to Clean a Conservatory Roof -The right way
Your conservatory is usually one of the most relaxing and maintenance free rooms in your home. However, no matter what you do the roof will collect bits of debris during the year and it needs a wash down to make the most of the sunlight and beautiful views. Dirty windows is never a good look and why have a conservatory that's not gleaming when it does not cost too much to have it cleaned. Cleaning your Conservatory roof top yourself is possible, if you follow guideline and take care of your safety and others.
Here we take a look at the simplest and most effective method of cleaning the roof of your conservatory.
Products and Preparation
Cleaning a conservatory roof relies on two secrets – the products you use to loosen the residue or debris and the method you use to access it.
The first thing to crack is your access to the roof. It's not a good idea for you stand on the roof itself, particularly if it's made from glass, you might end up needing to replace the whole thing and your safety will be at risk! Instead, pick a tool which allows you to clean the roof from the ground. Whether you opt for a regular sponge with an extendable handle or a water fed pole which allows soap and water to be pumped along the handle is your choice.
While an extendable handle will help you reach the conservatory roof easily, it is equally important that you can see what you are doing. This isn't as much about height as it is about the angle of viewing so a simple step ladder could be all you need.
To loosen the residue and debris sufficiently from the conservatory roof before beginning the wipe down, you'll want to think about the cleaning product you're using. There are plenty of products available at hardware stores specifically designed for outdoor use and other domestic cleaners can be used that have a great effect on cleaning your conservatory roof.
Scrubbing time!
Once you've got all your materials sorted it's time to start the cleaning. Always work methodically and follow these steps to cleaning your conservatory roof:
Step one: get all your materials ready and secure your work area for your safety and others. This means setting up your step ladder on the ground and ensuring good balance is maintained. It may be worth getting someone to help you by acting as a ladder support and passing you the necessary tools when you need them.
Step two: working methodically from one side of the conservatory roof to the other, apply a liberal amount of your cleaning product and warm water to loosen residue and stubborn dirt. You will have to rub harder-to-shift really grubby areas until all the dirt has been removed. Don't EVER be tempted to use anything ABRASIVE on the glass, as you will damage your window glass. Persistence is the key to cleaning tough areas.
Step three: when you're satisfied with your cleaning and it looks nice and clean, rinse thoroughly and wipe down, being careful to avoid smears. Extendable sponges with a squeegee attachment are especially good for this.
Step four: check your work from ground level, looking up from inside your conservatory and from outside your conservatory. With your roof now gleaming, it may be worthwhile turning your attention to the other in your conservatory after all, you don't want your sparkling clean conservatory roof to outshine the rest of your windows.
If after reading this guide you feel it's a bit too adventurous for you to do your own roof cleaning or for health reasons not possible. Then we are here anytime of year to do the job for you. We have very competitive prices and we give you a FREE QUOTE all you have to do is call us.
We are a friendly window cleaning service that takes the time to listen and do an excellent job!
Call us today 07940 575 999 or contact us for more details or to provide a free, no obligation window cleaning QUOTE.  We cover window cleaning in Burnley, Blackburn, Accrington, Clitheroe, Whalley, Padiham, Great Harwood, Darwen and the surrounding areas of Lancashire. If you are not sure about your area, just give us a call to check.
By Bernadette Kyriacou
WFC Window Cleaners © 2018
Clitheroe Web Designer. B Kyriacou