Keep The Sun Shining with Clean Windows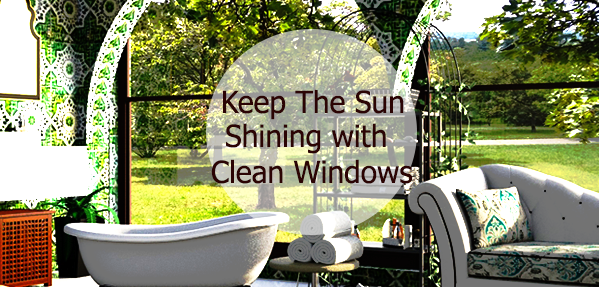 Yes we are flying through the summer months, but keeping those windows clean will make it last, just a little longer, as the sun will be able to shine through.
It's always a pleasure when sitting in your living room or conservatory when you can enjoy the view with spotless clean windows. 
Sometimes we get don't have enough time to clean our windows or we are not able too, and that is that is why we have professional window cleaners who do the job right and supers fast.
Don't take risks to clean difficult windows yourself when you can get them done regular by WFC window cleaners. We will clean your windows and conservatory windows inside and out. We use specialised tools and equipment to do the job safely and professionally. 
If you have very dirty window frames we can clean them too, just ask us when you make your enquiry. An enquiry cost you nothing, but leaving your widows or conservatory windows dirty can cause damage to the glass and frames.
We always have special offers on for our customers and happy to answers all your questions. If you have two services completed at the same time we will do one your home window either half price or free, depending on how many windows.
We also cover other services, such as gutter cleaning and power washing, all you have to do is ask and we will give you an affordable quote. 
All our services are covered by insurance of up to 5 million, so you can rest assured you and your property is in safe hand.
We are a friendly window cleaning service that takes the time to listen and do an excellent job!
Call us today 07940 575 999 or contact us for more details or to provide a free, no obligation window cleaning QUOTE.  We cover window cleaning in Burnley, Blackburn, Accrington, Clitheroe, Whalley, Padiham, Great Harwood, Darwen and the surrounding areas of Lancashire. If you are not sure about your area, just give us a call to check.
By Bernadette Kyriacou
WFC Window Cleaners © 2018
Clitheroe Web Designer. B Kyriacou