How to Clean Hard to Reach Windows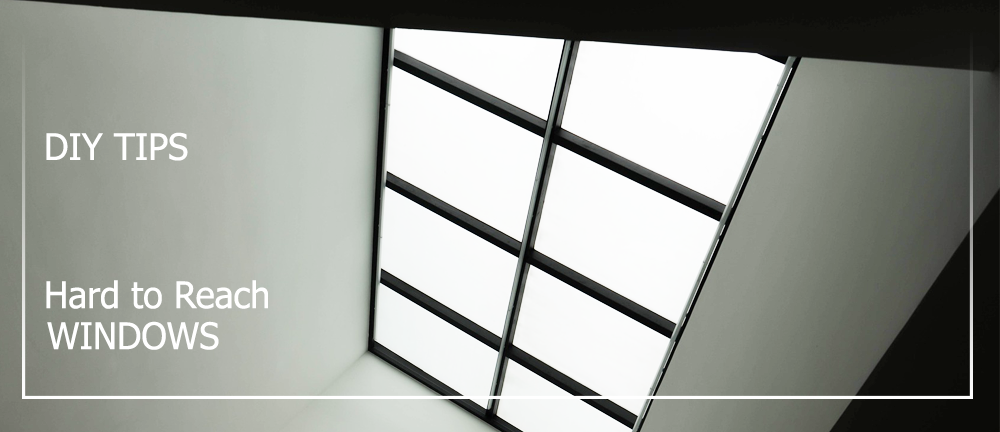 How to Clean Hard to Reach Windows – Do you have some awkward windows up high in the inside of your home. Skylights or hallway high wall windows? Whichever hard to reach window you are trying to clean, the problem is the same.
It can be really difficult and in some case dangerous
You may have tried already using ladders a chair or step stool. You may have even given it your best shot before deciding to call the professionals.
Before giving up we have some tips for you….
Cleaning Cloth– A microfiber cloth is the best way to clean any piece of glass because they work fast, produce great results, and allow you to do the job without any cleansers or other chemicals.
Useful –  You can get a specially designed window cloths made for cleaning windows, which has a microfiber on one side, and a synthetic chamois on the other so you can clean and dry using the same cloth. Same cloth can be used for cleaning mirrors.
How to Reach High Windows
In some cases you could use a ladder or or stool to reach the window, but make sure you're safe, as you could fall. It would be good if you could just add a cloth to the end of a pole. However you would not have much control.
Better Choice Window Cleaning Tool –  Luckily tools have been designed for the process of cleaning hard to reach inside windows.  It includes the addition of a squeegee. It spreads out the microfiber lengthwise, and allows you to apply even pressure across the fabric for quick and effective cleaning. The flexible squeegee allows you to dry windows after they have been cleaned, and will leave them spotless. The window cleaning tool is attached to a telescoping pole so you can reach almost any height, but it can also be removed to quickly wash the lower windows too.
How to Use it – Simply hold it in your hands. The microfiber window cleaning sets actually come with two tools. One small one, and one larger one an extension for high windows. The smaller one has a slightly tinier head, and is meant to be held by hand for washing any piece of glass that is within reach. The larger one has a wider head, and attaches to a lightweight, telescoping handle so it can be used to quickly and efficiently clean any window that is hard to reach. Both tools feature a squeegee on one side and an advanced microfiber cleaning pad on the other.  You can use just water or a your own cleaning solution. Theses extension tools have an effective reach of about 15 feet. This is more than long enough to reach high windows without using a stool or ladder.
If you are interested in getting yourself some inside window tools – We recommend:  Telescopic Window Cleaning Washing Kits – You will find a large choice online and in local stores. 
If you still find cleaning difficult to reach windows in your house or property daunting, call WFC Window Cleaners and we can take the hassle away and clean any outside windows if needed too.
Call us today 07940 575 999 or contact us for more details or to provide a free, no obligation window cleaning QUOTE.  We cover window cleaning in Burnley, Blackburn, Accrington, Clitheroe, Whalley, Padiham, Great Harwood, Darwen and the surrounding areas of Lancashire. If you are not sure about your area, just give us a call to check.
By Bernadette Kyriacou
Tags: diy cleaning windows, problem windows, window cleaning tips
WFC Window Cleaners © 2018
Clitheroe Web Designer. B Kyriacou