How to Clean Block Paving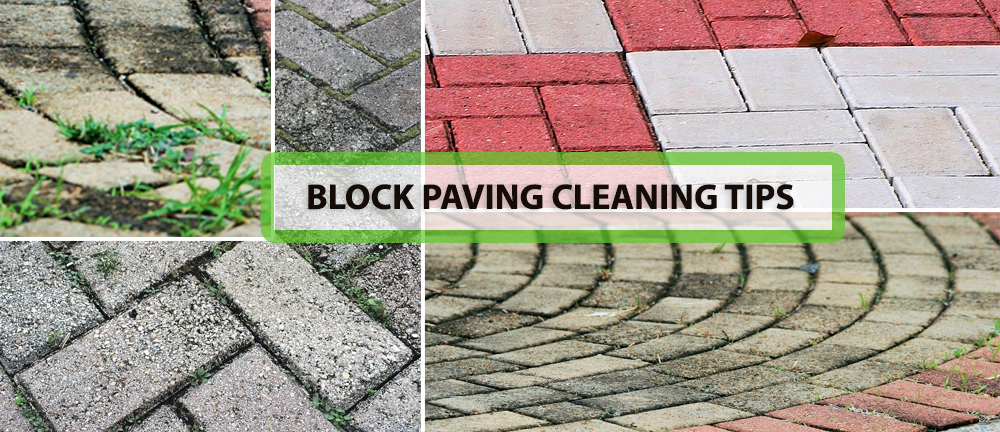 How to clean block paving
Its always best to get a professional to clean your block paving, but if you feel you want to do the job yourself, let us help you do it right!
Cleaning block paved patio's or driveways is a regular maintenance chore if you want to keep your driveway and patio well looked after and keep the surfaces structurally strong.
First you need to remove all the items in the area you are going to clean
This maybe plant pots, patio furniture or anything else you have that sits on the block paving.
By moving all items out of the way you will be sure to have a clean finish for all the block paving surface and no dirty marks if you move an item later.
Now its time to give the block paving surface a brush to remove any loose dirt.
To do this..
Use a broom and try to give the surface a good clean removing all loose material. Paying attention to corners and difficult to reach areas like behind drainpipes and in water drains.
Removing weeds from the block paving or patio area
As you clean your paving blocks it will soon become apparent if you have lots of weeds… This would be a good time to add weed killer following the manufactures instructions, as now you can clearly see where the problems are and where all the joins are.
After adding weed killer you will need to wait. Always allow a few dry days for your weeds and moss to completely die before you continue cleaning your block paving. You can tell the weed killer has worked because the moss will turn brown and the weeds will wilt. The moss and weeds will become loose from the surface of the paving joints making it far easier to clean the block paving.
When the weed killer has done its job, you can remove the weeds with a hard scraping tool or by hand.
Using a Pressure washer to remove weeds
If you use a pressure washer to remove the weeds please read the guided instructions first, as using a pressure washer without caution can damage your paving.
Oil and grease stains
If you find you have nasty grease or oil stains, you can use a oil remover, but as always be very cautious and follow the guided instructions.
Treat any areas of paving blocks that have oil stains on them separately with a suitable oil and grease removing cleaner.
If the oil stain on the block paving is only light then try applying neat washing up liquid. Scrub the stained area vigorously then rinse with hot soapy water whilst still scrubbing – This method of removing oil from your paving can result in the stain being removed or becoming unnoticeable.
If you're paving is very dirty and oil stained, you may need to repeat the cleaning process after treating any oil stain.
After cleaning the problem area…
Wash the whole surface with soapy water or specialist block paving cleaner.
Apply a solution of soapy water to the block paved surface to lift the dirt from the surface.
Gently scrub the water or cleaner into the surface of your block paving.
Then gently scrub all the surface of your block paving with a stiff broom to work the liquid into the surface and between the joints.
You could use a pressure washer to clean the surface…
 A pressure washer may have rotating cleaning brushes that are ideal for cleaning the ingrained dirt and the surface of your paving. Again please be cautious when using a pressure washer.
Rinse the block paving with clean water
After the soapy water or cleaner has been brushed into the surface finish by rinsing the block paving surface with lots of clean water. This removes the dirty water or cleaner and any leftover dirt.
To finish of all your hard work after the paving has dried
Have a check to see it you have any areas where the paving joints need sand and get some joint sand to replace the problem areas. Simply brush the joint sand into the joints on a dry day. Keep applying joint sand when necessary. As this will keep your paving joints in good maintenance.
If all this DIY work seems too much and you want a professional to do the job fast and safely, then WFC Cleaning Service are the guys to call.
Call us today 07940 575 999 or contact us for more details or to provide a free, no obligation window cleaning QUOTE.  We cover block paving and pation cleaning in Burnley, Blackburn, Accrington, Clitheroe, Whalley, Padiham, Great Harwood, Darwen and the surrounding areas of Lancashire. If you are not sure about your area, just give us a call to check.
By Bernadette Kyriacou
Tags: block paving cleaning
WFC Window Cleaners © 2018
Clitheroe Web Designer. B Kyriacou