TOP TIPS for Maintaining Your Conservatory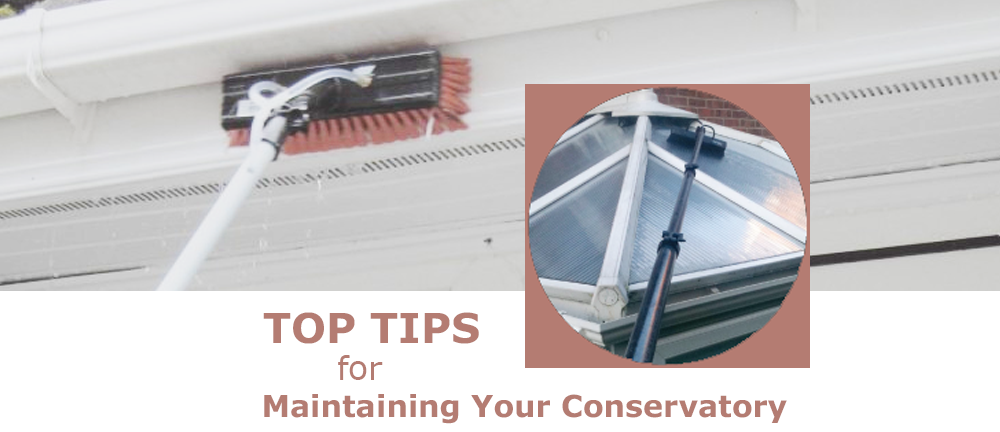 Looking after your Conservatory is good practice, as it adds value to your home and when it is well maintained, it stays in good condition for many years. If you don't look after your conservatory it will become damaged, dirty and look shabby. This would be a shame for any home, as you use your Conservatory, as a place to enjoy and relax.
Knowing your conservatory is a valuable asset to your property you need to do regular maintenance to keep it looking good as new and working smoothly. You can do lots of little job yourself, but for other tasks it's best to call in the professionals.
Follow our top tips for looking after your Conservatory
Regular Maintenance
Always do a yearly' service on your conservatory just as you would with your car
This should include lubricating all the locks, handles and hinges
Clear the guttering, down-pipes and drainage slots
Clean all the windows and door jambs
Clean the finials and cresting's
Apply protective oil to the lead flashing
Don't Try to Do Anything That May Risk Your Safety
Never attempt to climb on the Conservatory roof or to reach the high points around your conservatory without the correct equipment. There is a high risk of falling and you could also easily damage the structure, creating leaks within it.
It's best to book a conservatory cleaning expert to clean and service the hard to reach areas.
Looking After your Conservatory Windows
Clean the windows regularly inside and out. The frequency with which it will need to be done will depend on the orientation of your conservatory. If your conservatory is set in a bright, sunny position, rain water will evaporate more quickly than if it's in a shady spot.

Conservatories in shaded areas tend to get dirty more quickly because the dirt in the water stays on the glass for longer
Never Use
Spirit-based cleaners or thinners – even on stubborn stains – because they could attack and damage the plastic sections of your conservatory.
You should never use metallic abrasive cloths or pads as they will damage the glass units, seals and plastics
Looking After Your Conservatory Guttering
Keep the gutters around your conservatory clear, as this is vital to ensure there is free drainage into the down-pipe and drains

A build-up of dirt and leaves will quickly block your conservatory gutters and could cause them to overflow. 

If not managed properly, this excess water from your gutter overflow could damage your conservatory and potentially your property too

It's important to see inside the gutters to check they are free-flowing and able to do their job efficiently
Unblocking your Conservatory Gutter
Use a ladder and don't attempt to 'hook' dirt or leaves out of the gutters with a long implement while standing on the ground. This could cause injury to yourself by overreaching, and you may also cause damage to the gutters as they are not designed to carry much weight.
Use ladders making sure you can see and reach right into the gutter in order to remove any debris and ensure a free flow of water.
Professional Gutter Service and Conservatory Valet
Book an in-depth

conservatory cleaning service

every one or two years with a conservatory valet expert

This will ensure that all those hard to reach areas are cleaned and restored

It will also mean all the glass windows and doors can be polished as well as cleaned, to protect them from the elements for the next few seasons to come

Plus your uPVC will be cleaned and looking bright and new again
If you want Professional Cleaners – Call us today 07940 575 999 or contact us for more details or to provide a free, no obligation window cleaning QUOTE. We cover window cleaning in Burnley, Blackburn, Accrington, Clitheroe, Whalley, Padiham, Great Harwood, Darwen and the surrounding areas of Lancashire. If you are not sure about your area, just give us a call.
By Bernadette Kyriacou
Tags: conservatory cleaning
WFC Window Cleaners © 2018
Clitheroe Web Designer. B Kyriacou