Window Cleaning Over the Years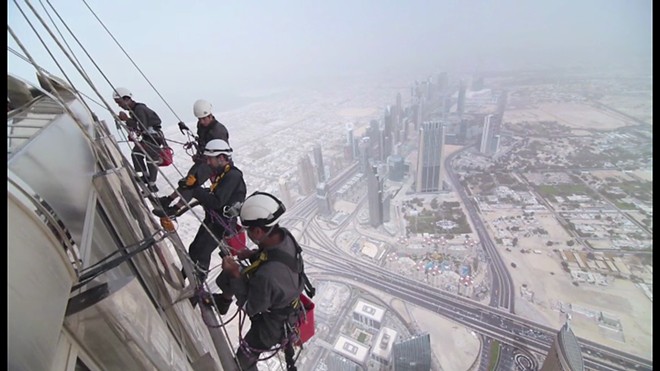 History of window cleaning and how it has changed over the years.  Looking back the history of window cleaning begins with the making of glass, without the production of glass, window cleaning would never have become a profession. Funny how one thing brings another and the discovering goes on. Window cleaning is a major service around the whole world from huts and houses to skyscrapers!
The discovery of glass dates well back to the Stone Age, around 7,000 BC. The production of glass in the form of jewellery and small jugs began in the 2nd millennium BC in ancient Egypt or Mesopotamia.  It was much less common than today and was considered very precious. The art of glassblowing didn't arrive until sometime around the end of the 1st century BC, and it didn't get mass produced until the mid to late 19th century. This is when it started being used to produce windows. Windows were first cleaned by housewives or servants, with simple soapy water in a bucket and a cloth. It wasn't until the construction boom that started in 1860 that the demand for professional window cleaners came into action.
In 1861 the Belgian chemist Ernest Solvay introduced glass to a wider circles of the population with a cost-effective way to produce glass. Suddenly, countless office buildings, train stations, administrative buildings and ministries were equipped with massive window facades. This was the beginning of the commercial window cleaning industry. Frenchman Marius Moussy founded the French Cleaning Institute in Berlin in 1878. In other cities, Moussy's former employees started up their own businesses. In 1901, the Federation of German Cleaning Institute Entrepreneurs was finally founded. The Göttingen publisher Ernst Kelterborn also published the first trade journal: the International Paper for Cleaning Institutes and Related Lines of Business.
WW1 & WW2 seen a setback as the majority of male workers were called to the army.  Leaving women to do not only their own work but rise to the challenge of window cleaning.  And jolly smart they looked too in their uniforms, high gaiters and caps.. Ladder climbing caused them no qualms and they were experts at the work. They never failed to cause interest or admiration with the pubic as they turned heads. Window cleaners and teachers were more likely than those of any other profession serving in the British armed forces in the First World War to be decorated for bravery.
Window cleaning has grown into a huge profession with many accessories to help make the job a little safer and easier, but still to this day it takes a brave window cleaner to rise to the great heights of skyscrapers.
If you want Professional Cleaners – Call us today 07940 575 999 or contact us for more details or to provide a free, no obligation window cleaning QUOTE. We cover window cleaning in Burnley, Blackburn, Accrington, Clitheroe, Whalley, Padiham, Great Harwood, Darwen and the surrounding areas of Lancashire. If you are not sure about your area, just give us a call.
By Bernadette Kyriacou
Tags: Commercial Window Cleaning, Domestic Window Cleaning
WFC Window Cleaners © 2018
Clitheroe Web Designer. B Kyriacou