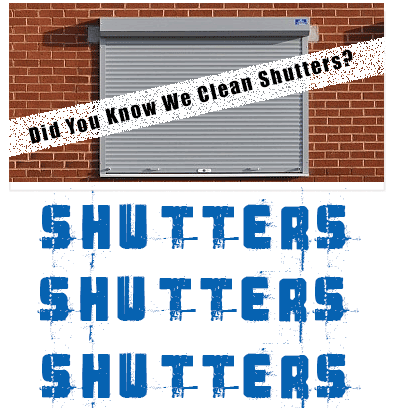 To get you Shutters clean and looking smart again, call us or email us TODAY for a QUOTE.
Looking after your Shutters is the best way to keep them in good repair with no rusting or corroding, plus who wants green furry shutters. It does not look nice and it looks shabby.
If you want Professional Cleaners – Call us today 07940 575 999 or contact us for more details or to provide a free, no obligation window cleaning QUOTE. We cover window cleaning in Burnley, Blackburn, Accrington, Clitheroe, Whalley, Padiham, Great Harwood, Darwen and the surrounding areas of Lancashire. If you are not sure about your area, just give us a call.
By Bernadette Kyriacou
Tags: cleaning shop shutters, cleaning shutters, shop shutters
WFC Window Cleaners © 2018
Clitheroe Web Designer. B Kyriacou